The Best Sump Pump Systems For Your Home Near Easton, Allentown, Stroudsburg
A model-by-model review of the four major sump pump models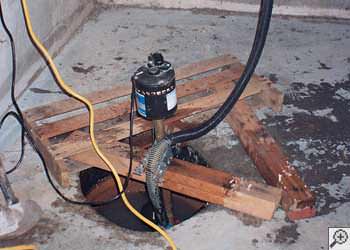 Improper sump pump installations can lead to moisture, odors, and noise coming from the sump pit.
By selecting a sump pump that is reliable, quiet, long-lasting, and strong enough to keep your crawl space dry, you can be sure that your space is best protected from groundwater seepage.
With so many crawl spaces flooding these days, many different models of sump pump systems have been designed to handle this. Like most things in the contractor industry, some designs are good, some are great, and some are in the process of being phased out.
The most common sump pumps systems are:
Pedestal Sump Pumps
Submersible Sump Pumps
Water-Powered Pumps
"Floor Suckers"
Get a Free Sump Pump Estimate!
Contact us today for your sump pump system installation! We serve Stroudsburg, Allentown, Easton and many surrounding areas.
CleanSpace®'s Research & Development department has carefully researched each sump pump model available on the market to determine which model we're willing to stand by when we waterproof your crawl space.
Below, we've provided our analysis of four sump systems -- including the pros and cons for each one.
Pedestal Sump Pump Systems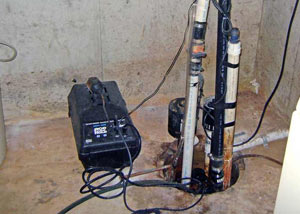 Pedestal pumps have problems. The mounting location above the sump pit will maximize pumping noise. This pumping configuration doesn't look good or perform reliably, either.
Pedestal Sump Pumps are pumps that are not meant to be submerged in water.
These pumps are mounted above the water line, with a long line from the float switch down into the pit.

(Click each item below for more information.)
Pump Advantages
Higher Capacity -- Pedestal sump pumps are one of the higher-capacity sump pumps available on the market. They're more able than some models to keep up with heavy volumes of water.
Pump Disadvantages
Frequent Malfunctions -- These low-end pumps are notorious for early burnout. Pedestal pumps also "wander" in their sump pits and can jam their sump pump switch on the side, forcing it to stay on or off.
Noisy Operation -- Because the motor is out of the sump pit, the noise from the pump cannot be muffled by a lid. Pedestal pumps usually stand in open pits, which let in odors and humidity.
---
Submersible Sump Pump Systems
Better performance & appearance. The installation is cleaner, safer and better equipped to handle a wide range of crawl space water problems.
Submersible Sump Pumps are installed in a sump pit and are meant to be immersed in water when operating. The water cools the unit to help prevent burnouts, while the sump pit can be covered for noise reduction.

(Click each item below for more information.)
Pump Advantages
High Capacity Operation -- Submersible sump pumps are high-capacity units that can keep any crawl space dry. When combined with a battery backup submersible pump, they provide the best protection of available models.
Long Lifespan -- Because the cast iron housing around the motor can disperse heat naturally into the water, these self-cooling pumps are long-lasting and reliable protection for your home.
Pump Disadvantages
Initial Investment -- While a submersible sump pump will outlast several generations of similar pumps, they cost slightly more on their initial investment than comparable alternatives.
---
Water-Powered Sump Pumps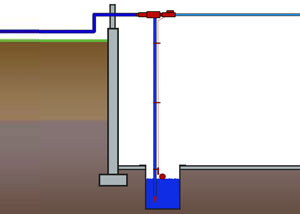 Pumping with water pressure. When a sump pump operates on pressure from your own water supply system, you can expect fairly reliable performance, coupled with low capacity.
Water-Powered Sump Pumps are installed above the pump pit and are powered by your water supply instead of electricity. These systems use your town water supply and depend on your home's water pressure for pumping capacity.

(Click each item below for more information.)
Pump Advantages
Runs Without Electricity -- Water-powered sump pumps operate by using your local water supply to help discharge water, allowing them to run through many power outages. 3-5 gallons will be used for each gallon of groundwater discharged.
Long Lifespan -- These pumps are long-lasting, durable systems that should continue operation for many years.
Pump Disadvantages
Low Pumping Capacity -- Unfortunately, water-powered sump pumps run at very low capacity. Heavy rains and water volumes will quickly overwhelm these systems.
Requires High Home Water Pressure -- If your home has low water pressure, it will greatly affect how useful these pumps are. If you experience a temporary loss of water pressure, they may fail to operate entirely.
---
"Floor Sucker" Sump Pump Systems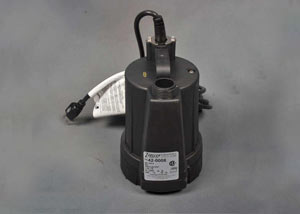 Temporary help from a portable pump. A sump pump equipped with its own power cord allows you to move the pump around your crawl space.
"Floor Sucker" Sump Pumps will only switch on after the crawl space has already flooded. They're often used by contractors and many homeowners as an emergency pump to suck the water off of the floor before installing a better waterproofing system.

(Click each item below for more information.)
Pump Advantages
Requires No Sump Pit or French Drain -- "Floor Suckers" sit directly on the crawl space floor. There's no need to install a perimeter French drain or sump pit.
No Installation Time -- These pumps are ready for use immediately, making them a good option for emergency use, or to clear out flooded waters before installing a different system.
Pump Disadvantages
Does Not Stop Flooding -- Your crawl space must flood with more than 1/8" of water before this pump begins operation. If you're paying to dry your crawl space, this is not a solution.
Loud & Low Capacity -- These pumps are low-end models that will not be able to keep up with heavy floods. The pump operation, sucking sounds, and discharge line will all contribute to significant noise during operation.
---
Schedule a Free Estimate for a Sump Pump!
Burke Home Services services Bethlehem, East Stroudsburg, Pen Argyl, Bangor, Wind Gap, Pocono Pines, Bartonsville and many nearby areas in PA.
Looking for a price? Get a no cost, no obligation free estimate.