Energy Rebates & Savings in PA
Valuable Rebate Resources
click the link below PDF files for the federal tax credit guidelines and an available federal credit worksheet!
Burke Home Services believes in the importance of maintaining a healthy, comfortable and valuable home. What better way to do just that than by contacting us to diagnose your home for energy upgrades and repairs?
With our unique home energy audit in PA, we will be able to identify those areas in your home that may be costing you money that you weren't even aware you were spending! Once the areas are pointed out, we then suggest the perfect repairs, upgrades and installations that pay for themselves! Even better is the fact that we're trained and certified to perform the work, or we know just the people who can help. And, there are many state and federal rebates and other energy savings applicable to the work we provide!
Burke Home Services provides access to rebates and incentives applicable to energy upgrades
Since we at Burke Home Services are all about savings and value, we want to direct your attention to the resourceful rebate programs and incentives that we provide, in addition to what the PA offers its residents.
Once your home is more energy efficient, you'll notice a vast increase in comfort. From comfortable, even room temperatures throughout the home, to being able to walk barefoot on the hardwood floor, the disappearance of drafts, and more—energy upgrades save you money and improve your home's comfort.
Let's get started with some energy savings in PA! We are your resource for a comprehensive home energy audit to diagnose the areas where your home is least efficient and costing you money! We offer many services from home energy conservation, renewable energy, air sealing, radiant barrier installation, and home insulation in Stroudsburg, Allentown, Easton, Bethlehem, East Stroudsburg, Pen Argyl, Bangor, Wind Gap, Pocono Pines, Bartonsville, and more!
Energy Rebates and Incentives in PA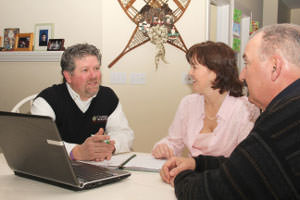 There are several ways to save, from federal tax credits and rebate programs, to savings programs and more! For a valuable list of energy rebates in Pennsylvania, make sure you visit the DSIRE site. Once on the site, just locate PA and read about the programs for which you qualify.
Have questions? We'd love to answer any of your questions about how you can best utilize the rebates and incentives.
As your trusted energy contractor in PA, we are certified and trained to suggest the appropriate repairs and provide the work. Contact us today regarding rebates and savings, and schedule a home energy audit in Easton, Allentown, Stroudsburg, and nearby areas including Bangor, Bethlehem, East Stroudsburg, Bartonsville, Wind Gap, Pocono Pines, Pen Argyl, and more!
Start Saving Energy and Money With A Home Energy Rebates in Pennsylvania
Call 1-855-218-2261 or contact us online to schedule a home energy audit and home energy repairs.
Burke Home Services offers many services for which you can apply energy rebates or specified energy savings in Stroudsburg, Easton, Allentown, and all surrounding cities and towns.
Looking for a price? Get a no cost, no obligation free estimate.