Expert Crawl Space Winterization Near Stroudsburg, Allentown, Easton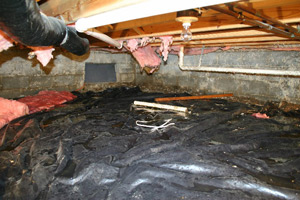 Avoid this crawl space mistake. Fiberglass batt insulation installed between joists in a crawl space will not provide adequate or long-lasting protection against frozen pipes or cold floors.
Improve your home's comfort, lower heating costs & prevent frozen pipes
We specialize in solutions to winterize your crawl space to prevent cold floors, high heating costs, and frozen pipes.
Contact Burke Home Services for your free quote. We will perform a thorough inspection of your crawl space and seal all air leaks. We install high-performance crawl space insulation to help improve your home comfort and energy efficiency year round.
We are the trusted experts for winterizing crawl spaces in Allentown, Stroudsburg, Easton and surrounding areas.
Ways we can winterize your crawl space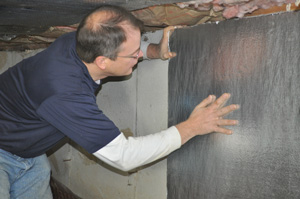 A smart & permanent solution. Insulating crawl space walls with rigid foam insulation creates a thermal barrier that can't be damaged by moisture and won't degrade in appearance or R-value over time.
Insulating & air sealing the rim joist. Left untreated, this thin layer of framing will allow heat to escape and frigid outside air to infiltrate. A professionally installed foam insulation upgrade eliminates these problems.
Insulate crawl space walls with rigid foam. Many crawl spaces have fiberglass batt insulation installed between floor joists. Unfortunately, fiberglass insulation doesn't perform well in crawl space environments. That's why we insulate crawl space walls with SilverGlo™ rigid foam insulation. This high-performance rigid foam is immune to moisture damage and won't lose its R-value or fall out of place once installed.
Insulate crawl space floor. For greater comfort and energy savings, we can insulate a dirt crawl space floor with TerraBlock™ rigid foam insulation. While not as important as insulating your crawl space walls, adding foam board insulation to the floor can reduce heat loss in the wintertime.
Upgrade your crawl space with dehumidification
A SaniDry dehumidifier will keep your basement or crawl space below 55% relative humidity, eliminating mold, dust mites and musty odors. By keeping your basement or crawl space dry, the SaniDry will help make your whole home healthier and more comfortable. Plus, by starting with dry air, your air conditioning system won't need to work as hard, which can mean savings for you on air conditioning costs.
SaniDry Sedona
The world's most efficient dehumidifier without a bulky heat exchange
Benefits & features:
High performance: Removes 100 pints of water per day and moves air at over 300 cubic feet per minute (cfm), drying building materials and contents and eliminating the damp smell.
High efficiency: Removes 2.9 liters of water per kilowatt hour (L/kWh).
Small size is perfect for a crawl space and takes up less space in a basement.
Get a free quote to insulate your crawl space
If you want to improve your crawl space insulation, the local experts at Burke Home Services can help. Call us at 1-855-218-2261 or contact us online to schedule an inspection and get a no-cost quote for crawl space winterization. We provide a wide range of insulation solutions to homeowners in Stroudsburg, Allentown, Easton, East Stroudsburg, Bethlehem, Bangor, Pen Argyl, Bartonsville, Wind Gap, Pocono Pines and nearby.
Looking for a price? Get a no cost, no obligation free estimate.